Irish Euro Coins
Ireland was one of the founding members of the Euro zone and started issuing coins in 2002. Some basic facts relating to Éire(Ireland).
---
Ireland has, I am afraid ,by far the most boring set of Euro coins. There is a single motif for all 8 coins - the Celtic harp. In addition Ireland up to 2017 has only minted one Commemorative Coin of its own.
Those of you who have ever been to Ireland will know that it is a land of great national beauty with a rich history - such potential for an interesting set of coins!
Dublin alone could supply eight motifs - but no we have only a Celtic harp.
Let us hope that in the future Ireland will draw on its great resources and supply us with some wonderful Two Euro Commemoratives Coins.

Normal Currency Coins.
1 cent - Celtic Harp.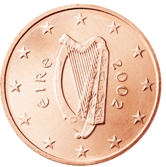 2 cent - Celtic Harp.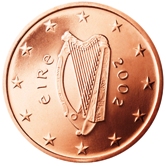 5 cent - Celtic Harp.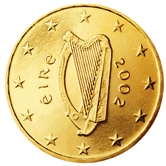 10 cent - Celtic Harp.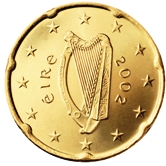 20 cent - Celtic Harp.
50 cent - Celtic Harp.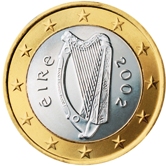 1 Euro - Celtic Harp.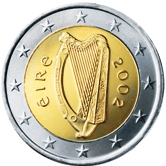 2 Euro - Celtic Harp.
Two Euro Coin Rim


Around the rim of the Two Euro Coin appear the number "2" followed by "**".
This is  repeated six times so that the "12-Star" European motif is represented. Each "2" is inverted with respect to the preceding and following "2".

---
Irish Commemorative Two Euro Coins.
---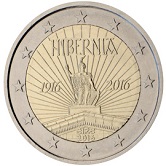 2016 - 100th Anniversary of the Easter Uprising against British rule.
Date of issue    : 20.01.2016
Issuing Volume : 4,500,000
---