Euro Coin  Issues/News in 2019

Greetings All,
Now, beginning of February, I'll start adding the new 2019 Commemorative Coins as they appear, as well as any announcements from the various countries about intended issues later in the year.
Last year 2018, gave us the largest number of new commemoratives (36) since the introduction of the Euro. It will be interesting to see if we exceed that number this year. Anyone like to say what the maximum possible number is that can be issued (possible mind, not likely though) - given the regulations pertaining at the moment?
By the end of February, I'll have added a contact form so you can send off your number then. The winner, chosen by lot if more than one answers correctly, will receive a prize - either a Commemorative Coin or something related to coin collecting.

Hereunder are the commemoratives of 2019, arranged alphabetically by country rather than chronologically. This will be updated weekly, so come back for the latest news.

---
Belgium
2019 - 550th Anniversary of the
death of Pieter Bruegel the Elder.
Issue Date: 24.01.2019
Number Minted: 155,000
---
Ireland
The coin honours  the first meeting of the "Assembly of Ireland", or "Dáil Éireann" in Irish Gaelic.
Date of issue    : 21.01.2019
Issuing Volume :1,000,000
---
Luxembourg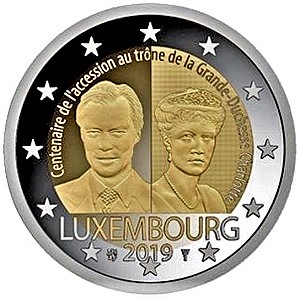 2019 -This coin commemorates the 100th anniversary of the abdication of Maria-Adelheid.
Date of issue    : 27.12.2018
Issuing Volume : 500,000
---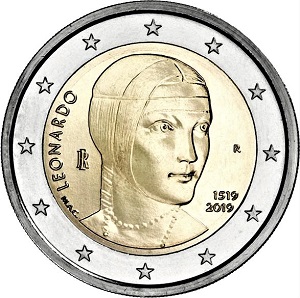 2019 -ThThis coin commemorates the 500th anniversary of the death of Leonardo da Vinci.

Date of issue    : 25.01.2019
Issuing Volume : 3,000,000
---