Euro Coin  Issues/News in 2019

Greetings All,
Now, beginning of February, I'll start adding the new 2019 Commemorative Coins as they appear, as well as any announcements from the various countries about intended issues later in the year.
Hereunder are the commemoratives of 2019, arranged alphabetically by country rather than chronologically. This will be updated weekly, so come back for the latest news.

---
Germany plans to issue a new commemorative coin in the autumn to commemorate the 30th anniversary of the fall of the Berlin Wall. It should look like the image below. Will keep you informed when more information becomes available.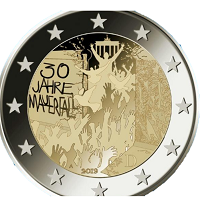 ---
Belgium
2019 - 550th Anniversary of the
death of Pieter Bruegel the Elder.
Issue Date: 24.01.2019
Number Minted: 155,000
---
Ireland
The coin honours  the first meeting of the "Assembly of Ireland", or "Dáil Éireann" in Irish Gaelic.
Date of issue    : 21.01.2019
Issuing Volume :1,000,000
---
Luxembourg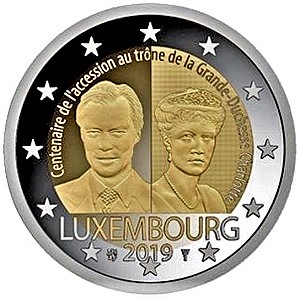 2019 -This coin commemorates the 100th anniversary of the abdication of Maria-Adelheid.
Date of issue    : 27.12.2018
Issuing Volume : 500,000
---
Italy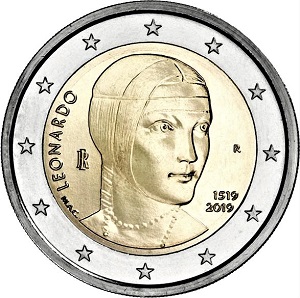 2019 -ThThis coin commemorates the 500th anniversary of the death of Leonardo da Vinci.

Date of issue    : 25.01.2019
Issuing Volume : 3,000,000
---
Germany
2019 - Commemorating 70 years of German Upper House.
Date of issue     : 29.01.2019
Issuing Volume : 30 Million
---
Spain
 2018 - City Wall of Álvilas.


Date of issue   : 01.02.2019
Issuing Volume :1,000,000
---