Euro Coin  Issues/News in 2020

Greetings All,
Now, approaching February, I'll start adding the new 2020 Commemorative Coins and follow the same format as last year. So, the coins will be added as they appear, as well as any announcements from the various countries about intended issues later in the year. The Commemoratives will also, as last year be arranged alphabetically by country rather than chronologically. This will be updated weekly, so come back for the latest news.
Looking back, there was a small drop in the number of coins minted compared with the previous year. In2018 36 coins were minted and in 2019 "only" 32. It was also the first year that Finland did not mint the maximum possible - we only saw one Finnish Commemorative instead of a possible two. A pity as I think Finland has produced some of the finest Commemorative coins.
For 2020 28 Commemoratives are already planned and as yet none for Finland. Still, the year is still young and perhaps by the end of 2020, the record 36 of 2018 will have been broken - we shall see!
To wet your appetite for the 2020 Commemoratives, here is some info regarding what lies ahead.
After a break in 2019, Germany continues with its Länder (provinces) series.It will also issue a second coin commemorating the genuflexion of Willy Brandt at the Warsaw ghetto memorial.
Belgium will be issuing  coins dealing with plant health and the Flemish painter Jan van eyck.
Estonia remembers the 200th Anniversary of Antarctic independence as well as the peace treaty of Tartu.
Lithuania continues with its provinces series.
Luxembourg issues another commemorative dealing with its royal house.
Malta continues its series of commemoratives covering prehistoric sites.
Slovenia remembers Adam Bohorič – author and philologist.
Spain continues its UNESCO world heritage series.
So you see there is much to look foward to.
The reasons for the Commemoratives and the motif details will be dealt with in far more detail when the coins are issued
---
Andorra
---
Belgium
---
Estonia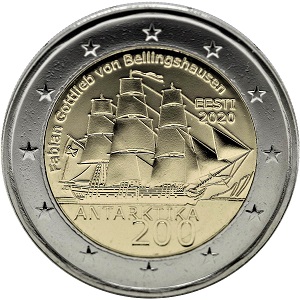 2020 - The coin commemorates the  200th anniversary of the discovery of Antarctica.
Date of issue     : 27.02.2020
Issuing Volume : 750,000
---
France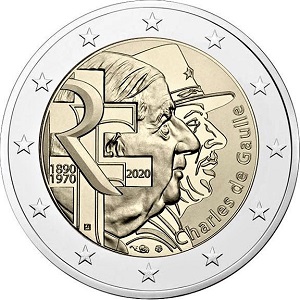 2020 - This coin commemorates Charles de Gaulle.
Date of issue     : 31.01.2020
Issuing Volume : 18,061,940
---
Germany
2020 - Sanssousi Palace - Brandenburg.(The letter for the minting location appears at 6 o'clock )
Date of issue     : 28.01.2020
Issuing Volume : 30 Million
---
Greece
---
Italy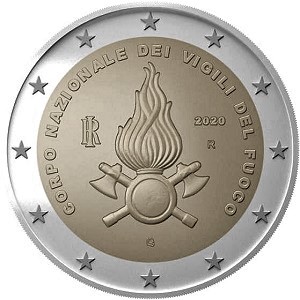 2019 -This coin commemorates the 80th anniversary of the of the National Firefighters Corps.
Date of issue    : 20.01.2020
Issuing Volume : 3,000,000
---
Latvia
---
Luxembourg

---
San Marino

---
Spain
---
Vatican

---