Euro Coin  Issues/News in 2021

Greetings All,
Now, approaching March, I'll start adding the new 2021 Commemorative Coins and follow the same format as I have for the last two years. So, the coins will be added as they appear, as well as any announcements from the various countries about intended issues later in the year. The Commemoratives will also, as last year be arranged alphabetically by country rather than chronologically. This will be updated weekly, so come back for the latest news.
Looking back, the number of coins minted increased slightly compared to 2019 - 2019 32 coins and 2020 34 coins.
At the time of writing 24th February 4 new coins have been issued and 24 are planed but I suspect this number will increase over the next few months.
To wet your appetite for the 2021 Commemoratives, here is some info regarding what lies ahead.
Germany will be issuing the second last of its Länder (provinces) series
Estonia and Finnland will both be issuing two coins

Luxembourg issues another commemorative dealing with its royal house.
Malta continues its series of commemoratives covering prehistoric sites and will be issuing one to the "Heros of the Corona Pandemie", whoever they may be! Will be interesting if any other countries jump on the Corona bandwagon!

Luxembourg,San Marino, Slovakia and the Vatican will be issuing coins for the Xth birthday of various people.
The reasons for the Commemoratives and the motif details will be dealt with in far more detail when the coins are issued



France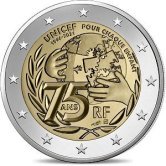 2021 - 75th Anniversary of the founding of UNICEF
Date of issue     : 18.03.2021
Issuing Volume : 7,500,000
---
Germany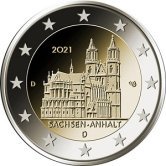 2021 - Magdeburg Cathedral Sachsen - Anhalt.(The letter for the minting location appears at 9 o'clock )
Date of issue     : 26.01.2021
Issuing Volume : 30 Million
---
Italy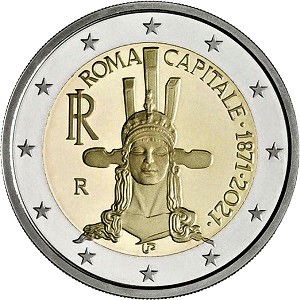 2021 - 150th Anniversary of the establishmemt of Rome as the capital of Italy.
Date of issue     : 26.01.2021
Issuing Volume : 3 Million
---
Latvia
2021 - This coin commemorates the 150 anniversary of Latvian Independence.
Date of issue   : 20.01.2021
Issuing Volume : 412,000
---
Portugal
2021 – The coin celebrates Portuguese Presidency of the Council of the European Union.
Date of issue   : 04.01.2021
Issuing Volume : 510.000
---
Spain
2021 – Old Town of Toledo.
Date of issue   : 10.03.2021
Issuing Volume : 4.000.000
---
San Marino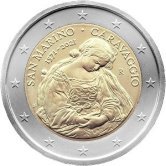 2021 – 450th anniversaryof the birth of the Italian painter Caravaggio.
Date of issue   : 01.03.2021
Issuing Volume : 54.000
---