Greek Commemorative 2011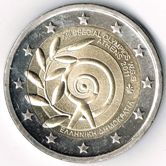 Details relating to the Greek Commemorative of 2011.
Issue Date: 30.05.2011
Number Minted: 1,000,000
Mint: National Mint Halandri
Mint Mark : Acanthus Leaf.
---
This coin celebrates the Special Olympics which took place in Athens from 25th June until 4th July 2011. The Special Olympics are for disabled (both mentally and physically) people.
The motive shows a shining sun representing the source of life. Also depicted is an athlete from whose arms a spiral emerges that merges into an olive branch. The spiral represents the effort made by the athlete and the olive branch symbolises victory.
In the top right hand side we see the name of the event and at the bottom of the inner ring stands Hellenic Republic in the Hellenic script.
Return from Greek Commemorative 2011 to euro coin collector.