Vatican Commemorative 2021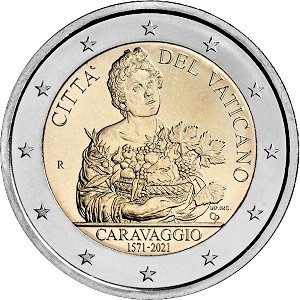 Details relating to the Vatican Commemorative of 2021.
Issue Date: 25.06.2021
Number Minted: 78,300
Mint: Instituto Poligrafico e Zecca dello Stato S.p.A.,Roma
Mint Mark : R
---
This is the second commemorative coin issued to commemorate the for the 450th birthday of Michelangelo Merisis da Caravaggio (1571–1610). For more details on Caravaggio and to compare the two issues see my entry for San Marion.

He is considered a conqueror of Mannerism and the founder of Roman Baroque painting. One of his most important innovations was chiaroscuro, light and dark painting.
The motif for the coin, which fills most of ther coin's inner circle, is the painting Fanciullo con canestro di frutta (Boy with Fruit Basket).This was painted by Caravaggio in 1593.
The fruit in the basket, represents that available at the time. In the basket we see grapes, figs, apples as well as small pears on a branch.
Under a hortizontal line towards the bottom of the inner circle is the painter's name CARAVAGGIO and under it the year of his birth 1571 and the year of isuue of the coin 2021.
Running around the edge of the inner circle from ten o'clock to four o'clock is the name of the issuing country "CITTÀ DEL VATICANO" (Vatican City).
Also on the edge of the inner circle at ca. nine o'clock is the mint mark "R" and at four o'clock the initials of the designer "CP" and the signet of the engraver "UP.INC."
All in all a very attractive coin.

Return from Vatican Commemorative 2021 to euro coin collector.