Vatican Commemorative 2019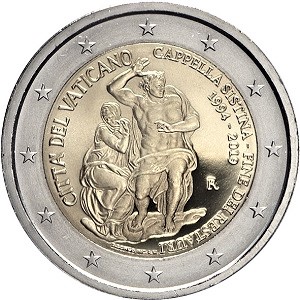 Details relating to the Vatican Commemorative of 2019.
Issue Date: 01.10.2019
Number Minted: 79,000
Mint: Instituto Poligrafico e Zecca dello Stato S.p.A.,Roma
Mint Mark : R
---
The Vatican has issued a coin to commemorate the 25th anniversary of the restoration of the Sistine Chappel.
The Sistine Chappel was built in 1475 - 1483.
The motif is a section of the ceiling - Judgement of Mary and Jesus.
Around the inner circle are the following inscriptions.
i) from eight to eleven o'clock "CITTÀ DEL VATICANO "
ii) from twelve o'clock to six o'clock " CAPELLA SISTINA - FINE DEI RESTAURI "
The Mint Mark "R" is seen at four o'clock.

Return from Vatican Commemorative 2019 to euro coin collector.