Vatican Commemorative 2013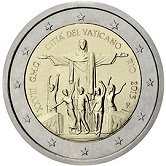 Details relating to the Vatican Commemorative of 2013.
Issue Date: 15.10.2013
Number Minted: 115,000
Mint: Instituto Poligrafico e Zecca dello Stato S.p.A.,Roma
Mint Mark : R
---
This coin was issued in honour of the 28th World Youth Day which was held in 2013 in Rio de Janeiro.
This the third time that the Vatican has issued a commemorative two euro coin to celebrate the World Youth Day. The other two occasions were in 2005 and 2011.
In the inner circle the famous land mark of Rio de Janeiro, Christ with outstretched arms, is shown. On the steps before the statue five youths are seen joyously dancing.
Running around the rim of the inner circle from eight o'clock to three o'clock is the inscription," XXVIII G.M.G. CITTÀ DEL VATICANO RIO 2013".
To the left of the statue is the mint mark R and immediately under the mint mark is the name of the artist P. Daniele.
Return from Vatican Commemorative 2013 to euro coin collector.