Vatican Commemorative 2012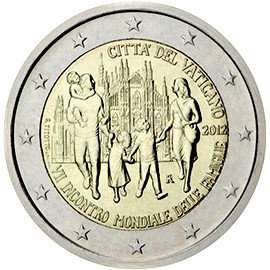 Details relating to the Vatican Commemorative of 2012.
Issue Date: 15.10.2012
Number Minted: 115,000
Mint: Instituto Poligrafico e Zecca dello Stato S.p.A.,Roma
Mint Mark : R
---
The coin was issued on the occasion of the seventh World Meeting of Families.
The theme for this seventh meeting was "Family, Work and Festival". These meetings take place every three years. The aim of these meetings is that families from around the world get together to pray, communicate and learn from one another.
In the inner circle a family of five is seen in front of the Cathedral of Milan.
Around the bottom half of the inner circle is the inscription "VII INCONTRO MONDIALE DELLE FAMIGLIE". In the top right quadrant is the name of the issuing country "CITTA' DEL VATICANO".
On the left (none o'clock) is the name of the artist followed by the initials of the engrave.
The mint mark "R" is below the cathedral at around five o'clock.
Return from Vatican Commemorative 2012 to euro coin collector.