Vatican Commemorative 2007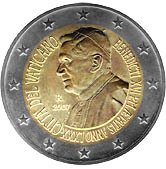 Details relating to the Vatican Commemorative of 2007.
Issue Date: 23.10.2007
Number Minted: 100,000
Mint: Instituto Poligrafico e Zecca dello Stato S.p.A.,Roma
Mint Mark : R
---
This coin celebrates the 80th birthday of pope Benedict XVI.
The motif shows the head and shoulders of the pope in the inner circle, looking to the left. Around the edge of the inner circle is the inscription: "BENEDICTI XVI P.M. ÆTATIS ANNO LXXX . CITTÀ DEL VATICAN": The inscription runs from one o'clock to eleven o'clock.
The mint mark and year of issue appear in from eight o'clock, near the chin. The name of the designer "LONGO" appears in from three o'clock and finally the initials of the engraver "MCC" appear in from seven o'clock.
Return from Vatican Commemorative 2007 to euro coin collector.