Vatican Commemorative 2005



Details relating to the Vatican Commemorative of 2005.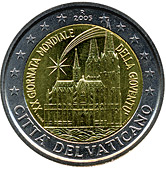 Issue Date: 06.12.2005
Number Minted: 100,000
Mint: Instituto Poligrafico e Zecca dello Stato S.p.A.,Roma
Mint Mark : R
---
This coin celebrates the "20th World Youth Day 2005" held in Cologne at the invitation of the Pope.
The motto of the 2005 World Youth Day was "We have come to worship him" - presumably Christ and not the Pope! The motto is taken from what the three wise men are supposed to have said on arriving in Bethlehem. Relics of the three wise men are supposedly kept in Cologne cathedral.
With the above connection it was appropriate to choose the Cologne Cathedral as the motif for the coin. It is depicted in the inner circle. The comet I believe represents the star of Bethlehem, followed by the wise men.
Around the edge of the inner circle is the inscription "XX GIORNATA MONDIALE DELLA GIOVENTU'".
The designer "LONGO" is seen at around eight o'clock. The mint mark and year of issue are seen at the very top of the outer ring. The name of the issuing country is shown with the bold inscription "CITTA'DEL VATICANO" at the bottom of the outer circle.
From 2013 onwards the outer ring, for all euro Commemorative Coins, has been reserved solely for the twelve stars of the EU as this is held to better represent European unity.
Return from Vatican Commemorative 2005 to euro coin collector.