Spanish Commemorative 2021



Details relating to the Spanish Commemorative of 2021.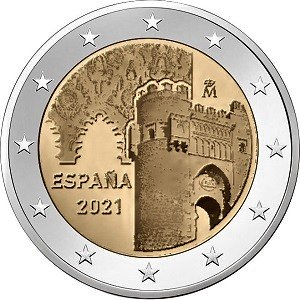 Issue Date: 10.03.2021
Number Minted: 4,000,000
Mint:Real Casa de la Moneda, Madrid
Mint Mark : M with Crown
---
This is the twelfth coin in the UNESCO World Heritage series in Spain and features the old inner city of Toledo.
Toledo, once renowned for the quality of its swords, is situated around 64 kilometers southwest of Madrid. The old town was declared a UNESCO World Heritage Site in 1986.
The motif, which was designed by Alfonso Morales Muñoz, has selected two buildings to represent Toledo's old town.
In the upper left quadrant is part of the wall of the El Tránsito Synagogue. This has been changed into a museum dealing with the history of the Jews in Spain and is now called 'Museo Sefardí'.
Occupying most of the right of the inner circle is a depiction of the city gate 'Puerta del Sol' (Gate of the Sun).Above the archway, difficult to make out, Archbishop Ildefons is shown .He is the patron saint of Toledo.
Near the edge of the inner circle, between one and two o'clock is the mint mark - an M under a crown. Finally in the bottom left quadrant we see the issuing country and the year of issue - "ESPAÑA" and "2021".

Return from the Spanish Commemorative of 2021 to euro coin collector.