Spanish Commemorative 2020



Details relating to the Spanish Commemorative of 2020.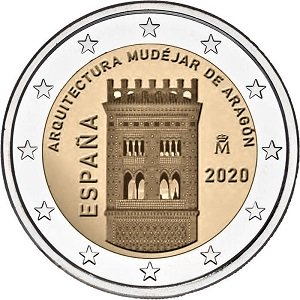 Issue Date: 31.01.2020
Number Minted: 4,000,000
Mint:Real Casa de la Moneda, Madrid
Mint Mark : M with Crown
---
This is the eleventh coin of the UNESCO World Heritage series in Spain and features the bell tower  of the church of San Martín in Teruel.This was declared a World Heritage Site in 1986.
The word MUDÉJAR appears on the coin and this refers to Muslims who came under the rule of the Christian kingdoms in Spain during the Reconquista.They contributed greatly to the regional architecture with many islamic features on the buildings such as horseshoe arches.
The Mudejar style flourished from the 14th to the 16th centuries.
The motif of the coin shows the bell tower - Torre de El Salvador of the church of San Martín in Teruel which is reputed to have been built around 1320.
The image of the bell tower appears boldly in the centre section of the coin's inner circle.
Around the edge of the inner circle, running from níne o'clock to three o'clock is the inscription" ARQUITECTURA MUDÉJAR DE ARAGÓN" (Aragon Mudéjar architecture).
On the left side of the tower is the bold vertical insciption of the issuing country - "ESPAÑA".
Finally on the right of the Tower we see, between three and four o'clock, the mint mark and the year of issue - 2020.
Return from the Spanish Commemorative of 2020 to euro coin collector.