Spanish Commemorative 2019



Details relating to the Spanish Commemorative of 2019.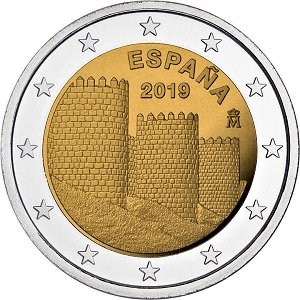 Issue Date: 01.02.2019
Number Minted: 1,000,000
Mint:Real Casa de la Moneda, Madrid
Mint Mark : M with Crown
---
This is the tenth coin of the Spanish series honouring the UNESCO World Heritage.
Commemorated with this coin is the construction of city wall of Ávila.
The wall was built around 1092 on the orders of the then Spanish King, Alfonso VI.
The fully preserved wall has 88 towers and 9 city gates and a circumference of around two and a half kilometers. It encloses a rectangular area of 33 ha. The area was not large enough to accommodate all of the many numerous Romanesque churches that were built and consequently some of these are outside the city walls.
The design of the coin is simple but effective. In the inner circle three of the wall's towers are shown, descending from right to left. Around the edge of the inner circle from twelve to two o'clock is the name of the issuing country "ESPAÑA", followed by the mint mark. Above the middle tower we see the year of issue "2019".
The coin designed by Alfonso Morales Muñoz.
Return from the Spanish Commemorative of 2019 to euro coin collector.