Spanish Commemorative 2016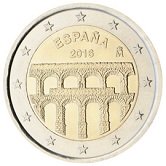 Details relating to the Spanish Commemorative of 2016.
Issue Date: 29.02.2016
Number Minted: 8,000,000
Mint:Real Casa de la Moneda, Madrid
Mint Mark : M with Crown
---
This coin is the seventh in the of UNESCO World Heritage Site Series.
The current issue features the Aqueduct of Segovia. This, together the old quarter of the city of Segovia  joined the world heritage series in 1985. The old Roman aqueduct functioned for hundreds of years (until 1974) carrying fresh water to Segovia from the Sierra de Fuenfría mountains, situated 17 kilometers from Segovia.
The aqueduct is in parts over 28 meters high, is around 800 meters long and contains over 119 arches – a great feat of Roman engineering!
The coin shows a section of the aqueduct.
At the top of the inner circle one sees the name of the issuing country "ESPAÑA". Thereunder is the year of issue and at two o'clock is the mint mark.
Return from the Spanish Commemorative of 2016 to euro coin collector.