Spanish Commemorative 2015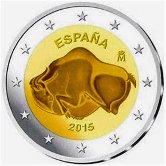 Details relating to the Spanish Commemorative of 2015.
Issue Date: 01.02.2015
Number Minted: 8,000,000
Mint:Real Casa de la Moneda, Madrid
Mint Mark : M with Crown
---
This is the 6th coin issued by Spain in its UNESCO World Heritage Series.
In the inner circle we see represented a bison painting from the caves of Altamira.
The Altamira cave covers an area of approximately 5500 m2 and contains around 930 paintings.
The paintings are representative of art from the ice age and are deemed to be of high artistic value.
They most probably were created around 14,000 to 16,000 years ago.
Since 1979 access to the caves by the general public has been closed.
The name of the issuing country ESPAÑA appears at the top of the inner circle and the mint mark is at two o'clock. The year of issue 2015 is at the bottom.
Return from the Spanish Commemorative of 2015 to euro coin collector.