Spanish Commemorative 2011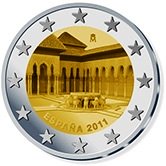 Details relating to the Spanish Commemorative of 2011.
Issue Date: 28.01.2011
Number Minted: 8,000,000
Mint:Real Casa de la Moneda, Madrid
Mint Mark : M with Crown
---
The coin was minted in honour of the inclusion in UNESCO World Heritage in 1984 of three sites in Granada – The Alambra, the Generalife Palace and the Albayzin. This is the second coin in Spain's World Heritage Series. More on the very interesting history of the Alambra.

Depicted in the inner circle is the "Patio de los Leones" (Courtyard of the lions). The fountain in the middle with the lions supporting water basin gave the courtyard its name. It is seen as one of the most beautiful examples of the Moorish style of Islamic art.
The mint mark a crown on top of an M can be seen between twelve and one o'clock.
Return from the Spanish Commemorative of 2011 to euro coin collector.