Spanish Commemorative 2010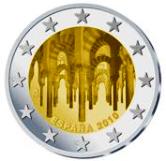 Details relating to the Spanish Commemorative of 2010.
Issue Date: 15.01.2010
Number Minted: 8,000,000
Mint:Real Casa de la Moneda, Madrid
Mint Mark : M with Crown
---
The coin is dedicated to the Mosque-Cathedral (Mezquita) in Córdoba as well as the old part of the city. The building which was initially a mosque has functioned as a Roman Catholic cathedral since the 13th century.
Both the cathedral and the old part of the city were declared in 1984 by UNESCO as belonging to the World Heritage.
This is indeed the first coin in the Spanish World Heritage series.
In the inner circle a forest of columns (856 altogether) of the former mosque are to be seen. An interesting feature is the "inverted horse shoes" connecting column to column.

The mint mark appears on the edge of the inner ring between eight and nine o'clock. At the bottom are the name of the issuing country and the year of issue.
Return from the Spanish Commemorative of 2010 to euro coin collector.