Slovenian Commemorative 2018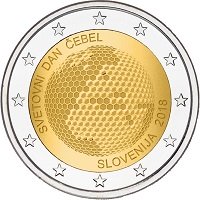 Details relating to the Slovenian Commemorative of 2018.
Issue Date: 14.05.2018
Number Minted: 1,000,000
Mint: Royal Netherlands Mint
Mint Mark : none
---
At the request of Slovenia the 20th May was declared "World Bee Day" by the United Nations. The 20th May was chosen as this was the birthday of Anton Janschas ,who is seen as the pioneer of modern apiculture (bee keeping).
The coin motif shows a honeycomb in the shape of a globe - the earth. With a little imagination one can see the outlines of the African and European continents as well as Iceland and Greenland.
Around the edge of the inner circle, from eight to twelve o'clock is the inscription "SVETOVNI DAN ČEBEL" (World Bee Day).From six to three o'clock we see the issuing country and the year of issue - "SLOVENIJA - 2018".
One of the most attractive commemoratives issued to date - I think.
Return from Slovenian Commemorative 2018 to euro coin collector.