Slovenian Commemorative 2017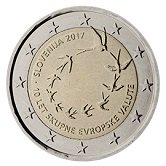 Details relating to the Slovenian Commemorative of 2017.
Issue Date: 02.02.2017
Number Minted: 1,000,000
Mint: Royal Netherlands Mint
Mint Mark : none
---
The coin celebrates the 10th anniversary of the adoption of the Euro as the official currency of Slovenia.
The motif shows 10 swallows flying in a circle obviously representing the ten joyous years of having the Euro! Around the lower half of the inner circle, from nine to three o'clock, is the inscription:" 10 LET SKUPNE EVROPSKE VALUTE"( 10 YEARS OF COMMON EUROPEAN CURRENCY).
From nine to twelve is the issuing country and year of issue – SLOVENIJA 2017.
The coin does not have a mint mark.
Return from Slovenian Commemorative 2017 to euro coin collector.