Slovakian Commemorative 2019



Details relating to the Slovakian Commemorative of 2019.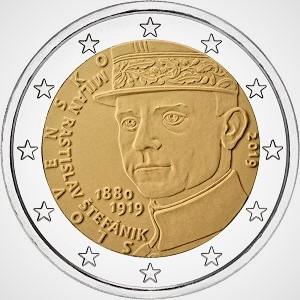 Issue Date: 25.04.2019
Number Minted: 1,000,000
Mint: Mint Kremnica,Slovakia
Mint Mark : MK

---
This coin commemorates the 100th anniversary of the death of Milan Rastislav Štefánik.
Štefánik, a Slovak astronomer and diplomat swas born in the then Kingdom of Hungary.
He became a French citizen in1912. Among his many achievements were becoming a military pilot and an Officer of the Legion of Honour.
He also became a general in the French Army and Czechoslovak Legion in 1915 and was one of the founding fathers of the First Czechoslovak Republic.
The coin's motif is simply an image of Štefánik, showing him in the uniform of a French General.
Around the edge of the inner circle, running from six to eleven o'clock is the country designation "SLOVENSKO". Underneath the country designation, now running in the opposite direction - from eleven to six o'clock is the inscription"MILAN  RATISLAV ŠTEFÁNIK".
Just below the face are the dates of birth and death 1880-1919.
Finally at three o'clock the year of issue 2019 is shown vertically.


From Slovakian Commemorative 2019  to euro coin collector.