Slovakian Commemorative 2017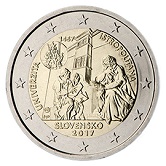 Details relating to the Slovakian Commemorative of 2017.
Issue Date: 04.01.2017
Number Minted: 1,000,000
Mint: Mint Kremnica,Slovakia
Mint Mark : MK

---
This coin commemorates the 550th anniversary of the founding of the University of Istropolitana.
The university was founded by Matthias Corvinus,King of Hungary, in 1467. At the founding, well-known lecturers were recruited from Austria, Poland and Italy.
The motif for the coin is interesting. In the background is the façade of the university and in front of the façade is a lecturer instructing two students. A small circle appears near the edge of the inner circle between ten and eleven o'clock and within this small circle is a depiction of Matthias Corvinius holding an orb with a cross on top.
Directly above the small circle is the year of founding – 1467. Around the edge of the inner circle are the following inscriptions – from eight to ten o'clock "UNIVERZITA" and from one to three o'clock "ISTROPOLITANA". Under the façade we see the issuing country and the year of issue – SLOVENSKA 2017.
Just in from eight o'clock and within the façade are the mint mark and directly thereunder the initials of the designer MP.
From Slovakian Commemorative 2017 to euro coin collector.