Slovakian Commemorative 2015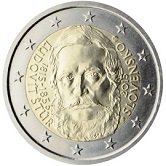 Details relating to the Slovakian Commemorative of 2015.
Issue Date: 23.10.2015
Number Minted: 1,000,000
Mint: Mint Kremnica,Slovakia
Mint Mark : MK

---
This coin commemorates the 200th birthday of Ĺudovít Štúr.
Štúr was a Slovakian linguist, writer and politician. As a respected linguist he did much to raise the "middle-slovakian" dialect to what is now acknowledged the Slovakian literary language. He was elected to the Slovakian parliament where he championed Slovakian interests.
The motif for the coin is simply a portrait of  Štúr placed centrally within the inner circle. Around the edge of the inner circle on the left side are the name " ĹUDOVÍK ŠTÚR" and  his birth and death years 1815-1856.
On the right side we see the name of the issuing country and the year of issue – SLOVENSKO 2015.
Preceding and following the country name are the initials of the designer and the mint mark.  
From Slovakian Commemorative 2015 to euro coin collector.