Slovakian Commemorative 2014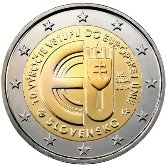 Details relating to the Slovakian Commemorative of 2014.
Issue Date: 01.04.2014
Number Minted: 1,000,000
Mint: Mint Kremnica,Slovakia
Mint Mark : MK

---
The coin celebrates the 10th anniversary of Slovakia's joining of the EU.
On 1st May 2004 the EU was extended by the addition of ten new member states.
These were Cyprus, The Czech Republic, Estonia, Latvia, Lithuania, Poland, Hungary, Malta, Slovakia, and Slovenia.
The Slovakian National Bank held a competition for the design of the coin, which was won by a lady called Mária Poldaufová and it is her design you can see on the coin.
In the inner circle we have a cleverly stylized EU, where the E suggests the Euro sign € and the U contains the coat of arms of Slovakia. This symbolizes Slovakia safely within the EU.
Around the edge of the inner circle is the inscription '10. VÝROČIE VSTUPU DO EURÓPSKEJ ÚNIE', which, according to my Google translator means "10th Announcement of the Entry to the European Union". At three o'clock we can see the date of entry "01.05.2015" and the year od issue "2015".
The name of the issuing country "SLVENSKO" is at the bottom, the mint mark at eight o'clock and the initials of the designer "MP" are at four o'clock.
From Slovakian Commemorative 2014 to euro coin collector.