Slovakian Commemorative 2009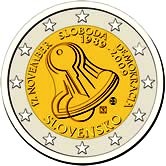 Details relating to the Slovakian Commemorative of 2009.
Issue Date: 10.11.2009
Number Minted: 1,000,000
Mint: Mint Kremnica,Slovakia
Mint Mark : MK

---
The central motive shows a stiyalised bell which is made out of many keys.
This is to commemorate the event on 17th November 1989 when the citizens (mainly students) protested for freedom and made a great deal of noise by rattling their keyrings. The protest was non- violent and was seen as the start of what was known as the "Velvet Revolution "
Under the bell, in a small square the initials of the artist – PK can be seen as well as the Mint Sign (MK) in a small circle.
On the top half of the inner circle is the inscription 17.NOVEMBER SLOBODA DEMOKRACIA (17.NOVEMBER FEEDOM DEMOCRACY).
From Slovakian Commemorative 2009 to euro coin collector.