San Marino Commemorative 2021



Details relating to the San Marino Commemorative of 2021.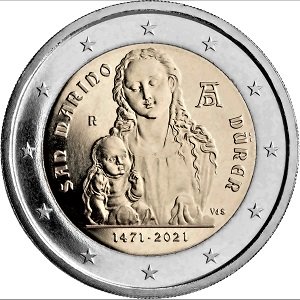 Issue Date: 27.08.2021
Number Minted: 54,000
Mint: Instituto Poligrafico e Zecca dello Stato S.p.A.,Roma.
Mint Mark : R
---
This coin commemorates the 550th anniversary of the birth of Albert Dürer.
Dürer was renowned as a painter but was also an art theorist and mathematician. His contributions to art made him an outstanding representative of the Renaissance.
The motif of the coin portrays his painting of the virgin and child and fills the inner circle of the coin. The actual painting now hangs in the Uffizi Gallery in Florence.
In the left hand of the Madonna is a pearl which is taken to represent love.
At the bottom of the coin running horizontally from around seven o'clock to around five o'clock are Dürer's date of birth and the date of issue of the coin "1471 - 2021".
Around the edge of the inner circle from eight to eleven o'clock is the name of the issuing country - "SAN MARINO". Just above the child's head is the mint mark "R" of the Italian mint.
Near the edge of the inner circle between one and two o'clock is an artistic representation of Dürer's monogram a "D" within an "A".
Finally at four o'clock are the designers initials "VdS".
Return from San Marino Commemorative 2021