San Marino Commemorative 2021



Details relating to the San Marino Commemorative of 2021.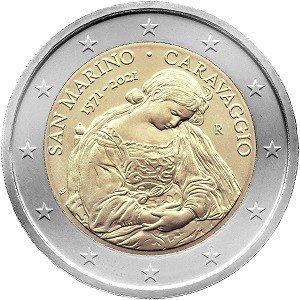 Issue Date: 01.03.2021
Number Minted: 54,000
Mint: Instituto Poligrafico e Zecca dello Stato S.p.A.,Roma.
Mint Mark : R
---

This coin commemorates the 450th Anniversary of the birth of the Italian painter
Michelangelo Merisi da Caravaggio (1571-1610).
Caravaggio was a highly regarded painter of the early baroque period and is by many regarded as one of the founders of Roman baroque painting.An innovation of his was the combination of light and dark in a painting, also known as chiaroscuro technique.
The motif of the coin shows Maria Magdalena taken from his painting "Repentant Magdalena".The image of Maria Magdelena occupies most of the inner circle..
Around the edge of the inner circle, running from nine o'clock to six o'clock is the inscription "SAN MARINO • CARAVAGGIO".
Also in the top left quadrant we see the date of birth of Caravaggio and the year of issue "1571–2021". In the to top right quadrant between two and three o'clock is the mint mark "R".
Finally on the edge of the inner circle at eight o'clock are the ligated initials "SP" of the designer.
Return from San Marino Commemorative 2021 to euro coin collector.