San Marino Commemorative 2018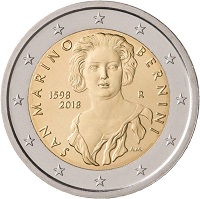 Details relating to the San Marino Commemorative of 2018.
Issue Date: 20.09.2018
Number Minted: 63,100
Mint: Instituto Poligrafico e Zecca dello Stato S.p.A.,Roma.
Mint Mark : R
---
This coin commemorates the 420th anniversary of the birth of Gian Lorenzo Bernini.
An odd date to commemorate – perhaps San Marino were simply determined to issue a second commemorative Coin in 2018!
Bernini was an Italian sculptor, painter and architect of the Baroque period and greatly influenced the development of Baroque sculpture and architecture in Italy.
The motif in the inner circle show a marble bust of Costanza Bonarelli (his mistress and the wife of his assistant) which was created by Bernini.
This is ranked one of the most beautiful and important works of art of the Baroque period.
Around the edge of the inner circle from seven to eleven o'clock is the name of the issuing country "San Marino". From one o'clock to four o'clock we see the inscription "BERNINI". In from nine o'clock are the date of Bernini's birth and the year of issue. "1598" and "2018".
Finally we see the mint mark "R", (in from three o'clock) and the initials of the designer "A.M." which appear at five o'clock.
Return from San Marino Commemorative 2018 to euro coin collector.