San Marino Commemorative 2016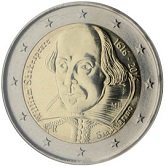 Details relating to the San Marino Commemorative of 2016.
Issue Date: 22.09.2016
Number Minted: 85,000
Mint: Instituto Poligrafico e Zecca dello Stato S.p.A.,Roma
Mint Mark : R
---
This coin was issued on the occasion of the 400th anniversary of Shakespeare's death.
Shakespeare is among the greatest (some would say is the greatest) literary figures in the world.
His plays – tragedies, comedies and historical dramatizations – are among the brightest jewels in the world literature crown.
In the inner circle is an image of Shakespeare based on  the portrait by Martin Droeshout.
On the edge of the inner circle on the left is the inscription "William Shakespeare", in the upper right "1616-2016" and in the lower right the name of the issuing country "San Marino".
At six o'clock is the mint mark R and at five o'clock, the collar is the mark of the engraver MB.
Return from San Marino Commemorative 2016 to euro coin collector.