San Marino Commemorative 2016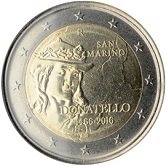 Details relating to the San Marino Commemorative of 2016.
Issue Date: 05.04.2016
Number Minted: 85,000
Mint: Instituto Poligrafico e Zecca dello Stato S.p.A.,Roma
Mint Mark : R
---
The coin commemorates the 550th anniversary of the death of the Italian sculptor Donatello.
The image chosen for the coin is that of the top of the bronze statue of David , made by Donatello around 1446. The statue is regarded as one of the most popular created  by Donatello.
David is presented as a young graceful figure wearing a stylish hat with laurel leaves symbolic of victory. He was, by the way, wearing nothing else! The statue is supposedly the first since antique times to show the male form completely naked (except for the hat of course!).
The full statue shows David with his foot on the head of the unfortunate Goliath.
In the lower half of the inner circle we see DONATELLO and thereunder the dates 1499-2016.
The mint mark R is at twelve o'clock and the initials of the designer are at six o'clock.
Finally between one and two o'clock is the name of the issuing country – SAN MARINO.
Return from San Marino Commemorative 2016 to euro coin collector.