San Marino Commemorative 2008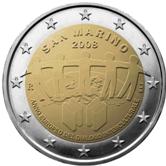 Details relating to the San Marino Commemorative of 2008.
Issue Date: 20.05.2008
Number Minted: 130,000
Mint: Instituto Poligrafico e Zecca dello Stato S.p.A.,Roma
Mint Mark : R
---
This coin was issued to celebrate 2008 as the year of inter cultural dialog. What this really means only EU bureaucrats know! Any rate San Marino was the only EU member state that thought it worth honouring with a commemorative coin.
The motif shows five people linking arms and standing on the European continent. The figures represent the different cultures in Europe. The books stand for the preparedness to study and understand different cultures.
Around the lower edge of the inner circle from eight to four o'clock is the inscription "ANNO EUROPEO DEL DIALOGO INTERCULTURALE". Around the top is the name of the issuing country SAN MARINO and directly thereunder the year of issue 2008.
The mint mark is at nine o'clock and the initials of the designer "E.L.F." are at three o'clock.
Return from San Marino Commemorative 2008 to euro coin collector.