Portuguese Commemorative 2019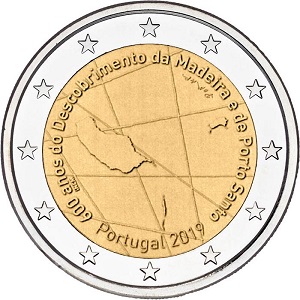 Details relating to the Portuguese Commemorative of 2019.
Issue Date: 06.06.2019
Number Minted: 770,000
Mint: Imprensa National Casada Moeda S.A. Lissabon.
Mint Mark : INCM.
---
This coin commemorates the discovery of Madeira in 1419 by  João Gonçalves Zarco. Madeira was settled in1420 at the instigation of Henry the Navigator.
The motif of the coin shows a map with Madeira two other small islands  set in the Atlantic ocean.
Around the edge of the inner circle is the inscription "600 anos do Descobrimento da Madeira and Porto Santo" (600 years since the discovery of Madeira and Porto Santos).This runs from around seven o'clock to fout o'clock.
At the bottom seven to five o'clock we see "PORTUGAL 2019".

The mint mark  "INCM" is under anos at eight o'clock and the name of the designer "POMAR" is under Medeira between one and two o'clock.
From Portuguese Commemorative 2019 to euro coin collector.