Portuguese Commemorative 2018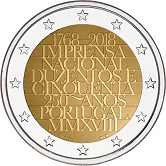 Details relating to the Portuguese Commemorative of 2018.
Issue Date: 22.05.2018
Number Minted: 520,000
Mint: Imprensa National Casada Moeda S.A. Lissabon.
Mint Mark : INCM.
---
The coin commemorates the founding of the National Printing Company which occurred 250 years ago. The National Printing Company publishes the Portuguese Official Gazette with all the legislative measures of the country as well as books of the highest cultural value and other cultural works.
The design is simple and effective – within the inner circle are eight lines with the following inscription:
                                                1768 – 2018
                                                  IMPRENSA
                                                   NACIONAL
                                                 DUZENTOSS E
                                                   CINQUENTA
                                                    250~ANOS
                                                     PORTUGAL
                                                                MMXVII
Which effectively means "1768 – 2018 National Printing House two hundred and fifty ~ 250 years Portugal 2018"
The designer of the coin is Eduardo Aires whose name appears in small print on the edge of the inner circle between seven and six o'clock.
The mint mark "INCM" appears on the edge of the inner circle between six and five o'clock.
From Portuguese Commemorative 2018 to euro coin collector.