Portuguese Commemorative 2014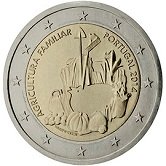 Details relating to the Portuguese Commemorative of 2014.
Issue Date: 31.10.2014
Number Minted: 500,000
Mint: Imprensa National Casada Moeda S.A. Lissabon.
Mint Mark : INCM.
---
This coin was issued to celebrate the resolution of the United Nations which declared 2014 to be the year of family run agriculture. This was to recognize the important contribution small scale farming makes in alleviating poverty and hunger in the world.
Within the inner circle are depicted typical tools of small scale farming as well as some of the products  produced.
On the left rim of the inner circle stands family farming in Portugese ("AGRICULTURA FAMILIAR").
Under the products between six and seven o'clock is the mint mark (INCM and the name of the designer H. Batista.
From Portuguese Commemorative 2014 to euro coin collector.