Portuguese Commemorative 2009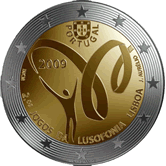 Details relating to the Portuguese Commemorative of 2009.
Issue Date: 09.06.2009
Number Minted: 1,280,000
Mint: Imprensa National Casada Moeda S.A. Lissabon.
Mint Mark : INCM.
---
This coin commemorates the Lusophony Games that took place in Lisbon in 2009.
The Lusophony Games is a sporting event that has taken place since 2006 – the participants are Portuguese speaking countries – so Portugal and former Portuguese colonies that have Portuguese as an official language.
The motif of the coin is that of the second games – an gymnast swirling a long ribbon.
At the top of the coin is the Portuguese coat of arms within a semi-circle formed by the country's name – PORTUGAL.
Around the lower edge of the inner circle is the inscription – "2.os JOGOS DA LUSOFONIA LISBOA".
This appears between the mint mark "INCM" and the name of the artist "J.AURÉLIO". The year of issue 2009 is seen in from ten o'clock.
From Portuguese Commemorative 2009 to euro coin collector.