Netherlands Commemorative 2013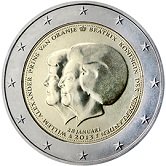 Details relating to the Netherlands Commemorative of 2013.
Issue Date: 06.02.2013
Number Minted: 20,500,000
Mint: Kononklijke Nederlandse Munt N.V., Utrecht
Mint Mark : Mercury's Wand.
---
This coin was issued on the occasion of the abdication of Queen Beatrix.
Shortly before her 75th birthday Queen Beatrix announced in a radio broadcast that she would be abdicating on 30th April 2013 in favour of her son Willem-Alexander (Prince of Orange).
In the inner circle are the portraits of the ex-queen (Beatrix) and the now reigning monarch (Willem-Alexander).
Around the edge of the inner circle is a row of small dots and within that the inscription "BEATRIX KONINGIN DER NEDERLANDEN" from twelve to five o'clock and then from seven to twelve o'clock "WILLEM-ALEXANDER PRINS VAN ORANJE". At the very top is a crown, at the bottom the year of issue 2013 which is flanked on the left with the mint masters mark and on the right by the mint mark.
Return from Netherlands Commemorative 2013 to euro coin collector.