Monaco Commemorative 2021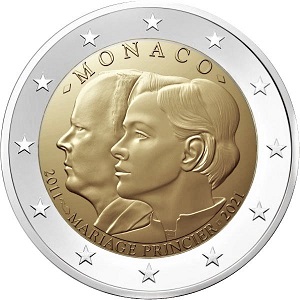 Details relating to the Monaco Commemorative of 2021.
Issue Date: 06.10.2021
Number Minted: 15,000
Mint: Monnaie de Paris,Pessac
Mint Mark : Cornucopia
---
This coin celebrates the 10th Anniversary of the marriage of Prince Albert II to Princese Charlène.
The motif of the coin is a profile of the royal couple that fills the inner circle of the coin. The motif is almost identical to the one of the 2011 Monaco Commemorative coin except that in the 2021 coin the a small part of the upper bodies is seen and the princess seems to be turning her right shoulder to the prince.
Around the edge of the inner circle the name of the issuing country "MONACO" is seen running from between ten and eleven o'clock to two o'clock. The country name is preceded and followed by a diamond-like image borrowed from Monaco's coat of arms so that we see "◊ MONACO ◊".
Below running from between seven and eight o'clock to five o'clock is the inscription "MARIAGE PRINCIER" (princely marriage). This is preceded by the year of the marriage 2011 and the mint mark (a cornucopia).Following is the mark of the engraver (Joaquin Jimenez) and the year of issue "2021".

Return from Monaco Commemorative 2021 to euro coin collector.