Monaco Commemorative 2020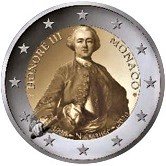 Details relating to the Monaco Commemorative of 2020.
Issue Date: 20.10.2020
Number Minted: 15,000
Mint: Monnaie de Paris,Pessac
Mint Mark : Cornucopia
---
This coin commemorates the 300th birthday of Prince Honoré III who became Prince of Monaco at the age of 11.
The reign in Monaco was left in the hands of Antoine Grimaldi, the uncle of the prince. On the death of his uncle in 1784 he returned to Monaco.
The French revolution in 1789 led to the loss of Grimaldi's property and privileges in France and to the annexisation of Monaco by France in 1793.
The unfortunate Honoré was arrested and died in a prison in Paris.
The motif of the coin is a depiction of Honoré as seen in a painting by Jean-Bapiste.
Around the wdge of the inner circle we see the inscriptions "HONORÉ III", running from nine to eleven o'clock and "MONACO" running from one to three o'clock.
Ab the bottom of the coin in somewhat smaller print is "1720 ♦ Naissance ♦ 2020" the birth of the prince and the year of issue of the coin.Immediately to the left of this inscription is the mint mark and to the right the mark of the designer.

Return from Monaco Commemorative 2020 to euro coin collector.