Monaco Commemorative 2018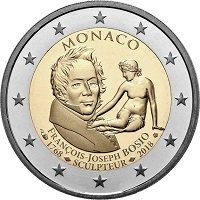 Details relating to the Monaco Commemorative of 2018.
Issue Date: 25.06.2018
Number Minted: 16,000
Mint: Monnaie de Paris,Pessac
Mint Mark : Cornucopia
---
The commemorative coin is dedicated to the 250th birthday of the Monegasque sculptor François Joseph Bosio
In the inner circle we see a portrait of Bosio by the painter Julien-Léopold Boilly. To the right of Bosio is a depiction of his sculpture of the flower-crowned nymph Salmakis.
On the edge of the inner circle from eleven o'clock to one o'clock is a bold inscription ("MONACO") showing the issuing country.
At the ,on the edge in the inner circle ,running from eight to four o'clock is the inscription "1768  - SCULPTEUR - 2018".Preceding and following this inscription are ,respectively  the mint mark and the mark of the mint master.
Return from Monaco Commemorative 2018 to euro coin collector.