Monaco Commemorative 2016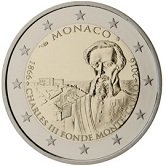 Details relating to the Monaco Commemorative of 2016.
Issue Date: 01.06.2016
Number Minted: 15,000
Mint: Monnaie de Paris,Pessac
Mint Mark : Cornucopia
---
The coin commemorates the founding of Monte Carlo 150 years ago by Charles III.
Monte Carlo is the largest of the nine districts of the principality and owes its name to the founding of a casino on a rock (monte) in the sea by the said Charles III. Monte Carlo is of course famous because of its casino where the world's wealth go to display and squander their wealth.

On the inner circle one sees Charles III as well as the casino on the rock in the sea.
Around the edge of the inner circle is the inscription  " 1866 CHARLES III FONDE MONTE CARLO 2016" (Charles III founds Monte Carlos in 1886).
Also shown is the mint year 2016. At the top of the inner circle is MONACO with the mint mark (cornucopia) to the left and to the right the sign of the mint master – Yves Sampo.
Return from Monaco Commemorative 2016 to euro coin collector.