Maltese Commemorative 2020



Details relating to the Maltese Commemorative of 2020.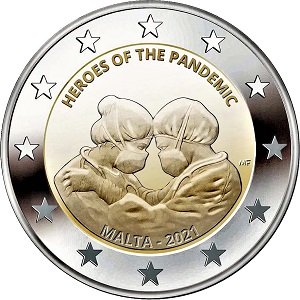 Issue Date: 02.08.2021
Number Minted: 72,500
Mint: Monnaie de Paris.
Mint Mark :

---
The motif of the coin is extremely simple and at the same very effective.
It shows two nurses in an intensive care unit of a hospital in Malta embracing one another. The photo was taken by a colleague (Nurse Diane Faenza) at a high point during the Corona epidemic when the two nurses were exhausted owing to the extremely high work load.
The photo was used by the designer of the coin (Maria Anna Frisone) to create the coin's motif.

At the top of the inner circle, running from ten o'clock to two o'clock is the inscription "HEROES OF THE PANDEMIC".
At the bottom of the inner circle we see the name of the issuing country and the year of issue - "MALTA - 2021"
Finally at three o'clock is an artistic representation of the designer's initials "MAF".

Return from Maltese Commemorative 2021 to euro coin collector.