Maltese Commemorative 2018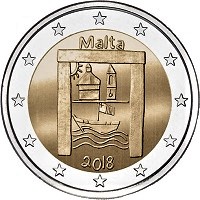 Details relating to the Maltese Commemorative of 2018.
Issue Date: 07.11.2018
Number Minted: 320,000
Mint:

Mint Mark :

---
This is the third coin in the five part series (begun in 2016) where the design is based on drawings by children where the themes are love, peace, nature, heritage and games.
This coin represents different aspects of Maltese culture.
In the inner circle is a temple gate as seen in some of the megalithic sites in Malta.
In the upper part of the temple the sun is seen shining on a dome and bell tower of a Carmelite church.
In the lower part of the temple a luzzu is shown on the sea. A luzzu is a traditional Maltese fishing boat, normally painted in bright colours. The boat is proudly flying the Maltese flag.
At the top of the inner circle is the name of the issuing country – Malta and at the bottom of the inner circle is the year of issue – 2018.
The coin has no mint mark.
The design was the winning entry among a total of 129.
Return from Maltese Commemorative 2018 to euro coin collector.