Maltese Commemorative 2016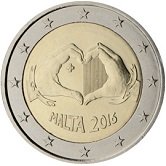 Details relating to the Maltese Commemorative of 2016.
Issue Date: 05.12.2016
Number Minted: 380,000
Mint:Monnaie de Paris,Pessac (France)

Mint Mark : Corucopia.
---
The coin is entitled "Solidarity through Love" and is the first in a five part series.
The series is named after the programme "From children in Solidarity". This programme is supported by the "Malta Community Chest Funds" which is a charity under the patronage of the Maltese president.
The aim of the institution is to assist philanthropic causes.
In the inner circle are two hands forming a heart within which is the flag of Malta. Around each wrist are the figures of two people.
Over 200 designs were submitted for the motif of the coin, the winning one being a submission of Maltese children.
At the bottom, the country of issue and the year of issue are seen.
The coin has no mint mark.
From Maltese Commemorative 2016 to euro coin collector.