Maltese Commemorative 2015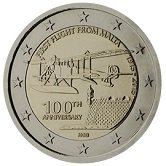 Details relating to the Maltese Commemorative of 2013.
Issue Date: 25.05.2015
Number Minted: 300,000
Mint:

Mint Mark : none.
---
The coin commemorates the 100th anniversary of the first flight from Malta to the mainland.
On 13th February 1915 a seaplane, that had been carried by the aircraft carrier Ark Royal, took off from the harbor and returned after a 55 minute flight. The role of the aircraft on Malta was to escort convoys and find enemy submarines.
In the inner circle the aeroplane is depicted flying from the harbor. Also shown is Senglea point, a prominent feature in the grand harbor of Vittoriosa.
Under the aeroplane stands "100th ANNIVERSARY". Around the edge of the inner circle from ten o'clock to three o'clock is the inscription "FIRST FLIGHT FROM MALTA   1915-2015".
At the bottom are the initials "NGB" of the designer.
Return from Maltese Commemorative 2015 to euro coin collector.