Maltese Commemorative 2014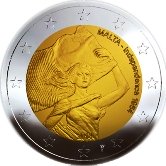 Details relating to the Maltese Commemorative of 2014.
Issue Date: 29.10.2014
Number Minted: 400,000
Mint: Royal Dutch Mint NB.V., Utrecht
Mint Mark : none.
---
This is the forth in the Maltese series on the constitutional history of Malta.
The present coin commemorates the 50th anniversary of the independence constitution of Malta of 1964. With this constitution Malta finally became an independent nation after hundreds of years of foreign domination.
The designer (Ġanni Bonnici) of the coin used as a motif the top part of his eight meter high statue.
The statue was created in 1989 to commemorate 25 years of independence. The young woman shown represents Malta and she holds aloft in her hand the Maltese flag.
A point of interest – on the flag (upper right-hand corner) we can see the George cross. This is highest British award for bravery for non-combatants and was awarded by King George VI to the entire Maltese population for the fortitude they showed during the siege of Malta in the second world war.
On the edge of the inner circle (one o'clock to four o'clock) is the inscription: "MALTA – Independence 1964". The year of issue -2014 – is to be seen at six o'clock.
Return from Maltese Commemorative 2014 to euro coin collector.