Luxembourg Commemorative 2020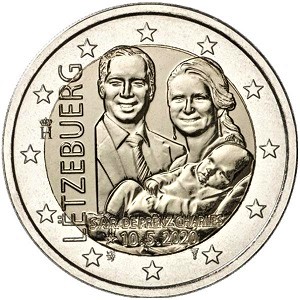 Details relating to the Luxembourg Commemorative of 2020.
Issue Date: 24.12.2020
Number Minted: 331,000
Mint: Kononklijke Nederlandse Munt N.V.,Utrecht
Mint Mark : Mercury's Wand.
---
This coin celebrates the birth of Prince Charles Jean Philippe Joseph Marie Guillaume. he was born on 10th May 2020.
He is the child of Grand Duke Guillaume and Grand Duchess Stéphanie and is second in line to the Luxembourg throne after his father.
The motif of the coin shows the child nestled in the arms of his mother with the father standing alongside.
An interesting feature is that the reigning Grand Duke Henri is not depicted on the coin but is merely represented by hie monogram - an "H" under the royal crown which shown between nine and ten o'clock, partly within the inner circle and partly intruding into the outer ring.
Luxembourg law normally requires that an image of the reigning Grand Duke appear on all coins as has been the case in all the Luxenbourg Euro coins to date.
It seems an exception was made in this case - perhaps in honour of the new prince.
The name of the issuing country "LËTZEBUERG"is shown vertically in bold type on the left of the coin.
At the bottom, running horizontally are the title and date of birth of the prince -S.A.R. DE PRËNZ CHARLES ★ 10.5.2020. The date of birth of course also shows the year of issue.
Just within the outer ring is the mint mark of the Dutch mint. Also in the vouter ring but at seven o'clock is thre national mint mark - a lion with two tails.
At one stage, the guide lins for the Euro coins demanded that only the twelve stars of the EU appear in the outer ring but this has now been ignored on several occasions - particularly by Luxembourg!

From Luxembourg Commemorative 2020 to euro coin collector.