Luxembourg Commemorative 2020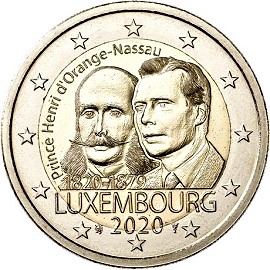 Details relating to the Luxembourg Commemorative of 2020.
Issue Date: 26.02.2020
Number Minted: 313,500
Mint: Kononklijke Nederlandse Munt N.V.,Utrecht
Mint Mark : Mercury's Wand.
---
The coin commemorates the 200th anniversary of Henry of Oranien-Nassau.
Henry was appointed govenor of Luxembourg by his brother William II who was at that time the Grand Duke of Luxembourg aswell as King of the Netherlands.
The coin's Motif depicts both Henry and the current Grand Duke.
Henry appears in the left half of the inner circle. The image is based on a painting from 1870 that is now in the Alexander Palace near Saint Petersburg.
Running around the inner circle from eight o'clock to one oclock is the inscription "Prince Henri d'Orange-Nassau" (Prince Heinrich of Orange-Nassau).Directly under Henry's image are the dates of his birth and death ( 1820 and 1879).
Under the two portraits is a bold inscription os the issuing country "LUXEMBOURG" and under this the year of issue "2020".
To the left of 2020 is the national mint mark and to the right the Dutch mint mark.

From Luxembourg Commemorative 2020 to euro coin collector.