Luxembourg Commemorative 2019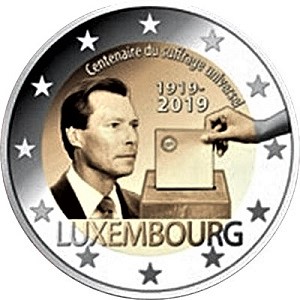 Details relating to the Luxembourg Commemorative of 2019.
Issue Date: 19.09.2019
Number Minted: 308,500
Mint: Kononklijke Nederlandse Munt N.V.,Utrecht
Mint Mark : Mercury's Wand.
---
In June 1918 parliamentary work began on the long-planned constitutional reform of Luxembourg.
By the beginning of 1919, the right to vote was also on the agenda - at that time only wealthy men were eligible to vote.
All parties supported the principle of universal suffrage for men but the extension of this right to women was only supported by the Socialist and Conservative parties.
Finally, In May 1919 universal suffrage for all adults was granted by a three-quarter majority, and parliamentary elections were held in October.
Motif:
There is a large image of the Grand Duke Henri on the left of the coin, looking to the right and next to him we see a ballot box with a hand inserting a ballot paper. Immediately above the ballot box are the years of granting universal suffrage and the year of issue - 1919 2019.

At the top of the inner circle , running from eleven to two o'clock is the inscription "Centenaire du suffrage universel" (One hundred Years of Universal Suffrage).

At the bottom in very bold type is the name  of  the issuing country -  "LUXEMBOURG".

This is the twenty-second coin of the Grand Ducal Dynasty series.
From Luxembourg Commemorative 2019 to euro coin collector.