Luxembourg Commemorative 2019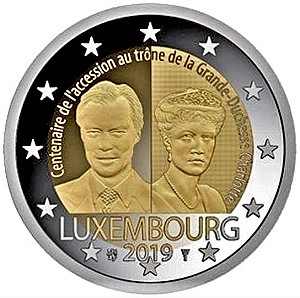 Details relating to the Luxembourg Commemorative of 2019.
Issue Date: 27.12.2018
Number Minted: 500,000
Mint: Kononklijke Nederlandse Munt N.V.,Utrecht
Mint Mark : Mercury's Wand.
---

 This coin commemorates the 100th anniversary of the abdication of Maria-Adelheid and thereby the succession to the throne of her sister Grand duchess Charlotte – in 1919.
The inner circle is split by a vertical line into two halves. In the right half is an image of the reigning Grand Duke Henri and in the left half is an image of the Grand Duchess Charlotte.
Around the edge of the inner circle, running from nine o'clock to four o'clock is the inscription "Centenaire de l'accession au trône de la Grande-Duchesse Charlotte" (Century of the accession to the throne of Grand Duchess Charlotte)
At the bottom in a very bold inscription is the name of the issuing country "LUXEMBOURG". This obtrudes into the outer ring – which is in fact against the guidelines which require the outer ring to be used solely for the twelve stars of the EU flag. Directly under LUXEMBOURG we see the year of issue "2019".
This is the twenty-first coin of the Grand Ducal Dynasty series.
From Luxembourg Commemorative 2019 to euro coin collector.