Luxembourg Commemorative 2018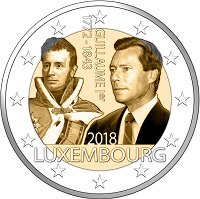 Details relating to the Luxembourg Commemorative of 2018.
Issue Date: 27.08.2018
Number Minted: 311,000
Mint: Kononklijke Nederlandse Munt N.V.,Utrecht
Mint Mark : Mercury's Wand.
---
This coin commemorates the 175th anniversary of the death of Grand-Duke Guillaume I. He was of the house of Orange-Nassau and shared various duties with the King of the Netherlands.
In the inner circle we see the Grand-Duke Guillaume(William) on the left and the reigning Grand-Duke Henri on the right. Between the two effigies, running down from twelve o'clock is the vertical inscription "GUILLAUME Ier  1772 – 1843"
At the bottom is a very bold inscription showing the year of issue and the issuing country "2018-LUXEMBOURG"
From Luxembourg Commemorative 2018 to euro coin collector.